WHY CHOOSE THE SOUNDCHECKPRO
Know the benefits
There are many unique features. The most important is the outcome to be more prepared
AFFORDABLE, ACCESSIBLE & SAFE
"Hands On" Signal Flow Training
SoundcheckPro emulates the workflow of common music technology hardware. Users can practice hands-on at home on their without needing the hardware to be physically present. Empowering ANYONE to be advance in knowledge to be better prepared for future opportunities.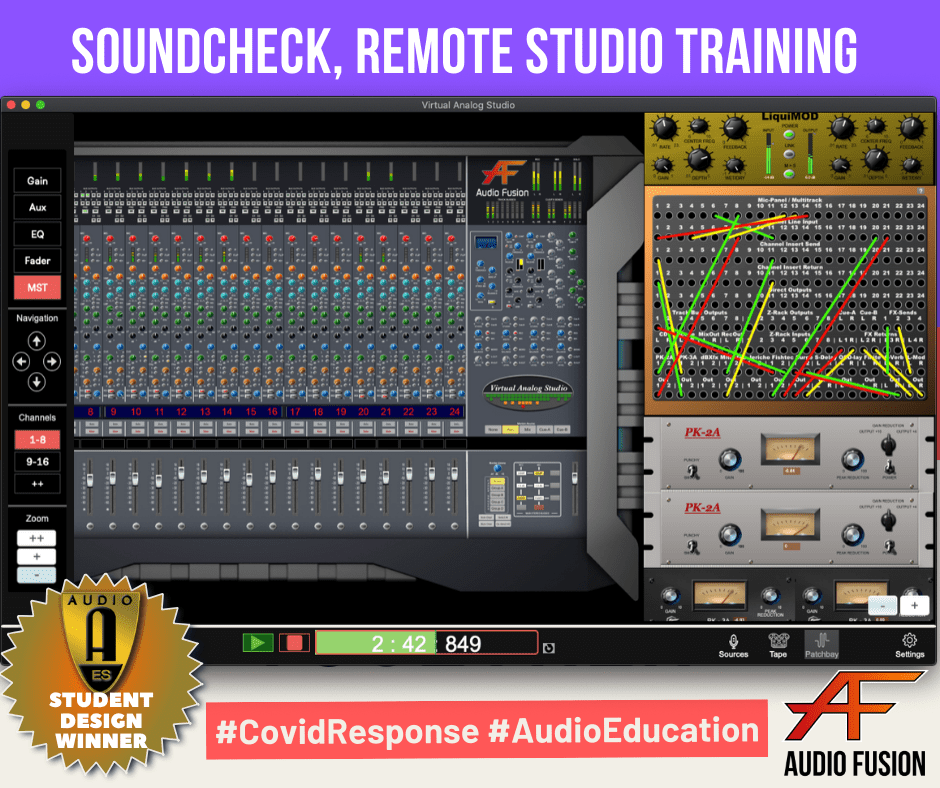 EMPOWERING AUDIO EDUCATION
The Perfect Co-Curricular Tool
With the accessibility of SoundcheckPro, students are able to practice the concepts they learn in class. SoundcheckPro replaces the textbook or PDF.  Whether in class or online, teachers can focus on teaching rather than review. 
Simulated Gear
An abundance of virtual mixing consoles, fx and patchbays to explore!
Practice Anywhere
Don't need to be in front of hardware to reinforce learning subjects.
Prepared for Sessions
Show up to labs and sessions ready to use the techniques practiced.
HOW TO
Get started with SoundcheckPro
Follow these easy steps to begin using SoundcheckPro.
Download & Activate
Use your account email to activate on first launch.
Our software continues to improve thanks to these programs.
WHAT PEOPLE SAY ABOUT SOUNDCHECKPRO
Testimonials
Educators and students speak out
"One of the best investments we have made at the lowest cost found to allow our students to perform expensive equipment with just one click."
Jesús Sánchez
CEO Director Academia Audioplace
Soundcheck Pro is the virtual studio software we have been needing as educators to re-create the analog signal flow experience.
MIKE TESTA
Educator, Salem State University
"I learned more with this in 2 days than I did in 2 semesters"
– Student of NYC
`Soundcheck = easily accessible + easy to use + very informative especially in the classroom``
– Teacher in NYC
"A great, useful training tool for a lot of people that haven't really experienced signal flow"
-Zack, Student at Full Sail